Jane Harrison receives Outstanding Administrator Award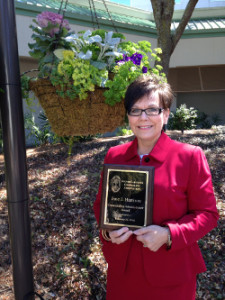 Anderson School District One Assistant Superintendent Jane Harrison has been awarded  the "2015 Outstanding Administrator Award" by the South Carolina Counseling Association. She was recognized last February 27th during SCCA's 52nd annual conference held at Westin Hilton Head Resort and Spa.
The award is designed to recognize outstanding service in the recipient's role as an administrator, which has had profound and lasting impact on the counseling and helping profession. While administrators from within the profession are obvious potential nominees, qualifications and experience as a counselor are not prerequisites to nomination.
Mrs. Harrison was nominated by Doris Nelson and Barbara Dansby for her work as the Anderson School District One guidance director.
The South Carolina Counseling Association is an educational and charitable organization which has established itself as a leader in serving the diversity of helping professions that exist in South Carolina.